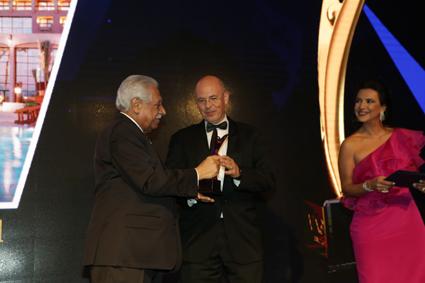 InterContinental Hotels Group (IHG) in Jordan is honored to be part of the first annual Living Well Awards, which is a very prestigious and high-profile event that Amman, its people, and its companies and brands definitely need and deserve.
The awards ceremony that took place last Thursday at the Four Seasons Hotel Amman was attended by Amman's elite and the people who have made a difference in their respective industries and careers, and of course many of those were nominated.
IHG in Jordan was proud to have won in two categories during that spectacular night. Burj Al Hamam Restaurant at InterContinental Amman won the award for Most Popular Restaurant. The award was presented to Mr. Michael Koth, General Manager of InterContinental Jordan, by H.E. Akel Biltagi. The second award was in the category of Best Resort, which InterContinental Aqaba Resort won. Mr. Michael Koth also received this award by H.E. Nayef El Fayez.